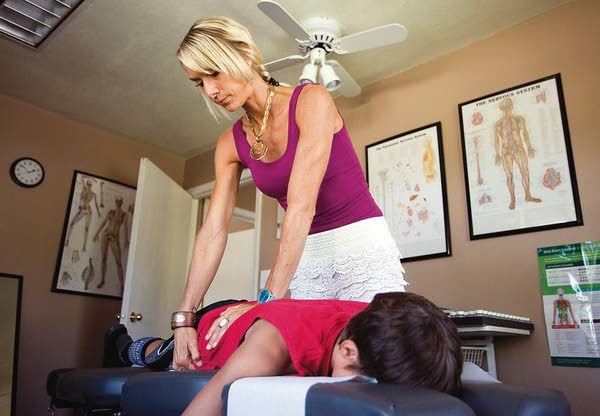 Meet Dr. Nicole
I'm Dr Nicole Heilsberg-
Expert Doctor of Chiropractic from Colfax,WA
I was born and raised on the Palouse.
In 2006 I became a licensed massage therapist. This profession open my passion for anatomy and physiology. As well, gave me a vision to further my path to help others
I went to Wsu from 2007 to 2011 for my B.S. in kinesiology. In 2011 I went to Parker University and Dallas Texas. I received a BS in Health and wellness and my doctor of chiropractic in 2014.
I specialize in sports chiropractic and have had training with a top sports chiropractic doctor Dr. Joe Ford in Plano Texas. Beyond sports, I work with adults, families, infants and children.
I am a certified rock tape and rock blade practitioner. I have my license and intra-oral massage and work with related issues such as TMJ and migraines. I also provide nutrition and customize orthotics.
My goal for any and all that come into my office is to provide a personal and customized experience. In order to further health and wellness in every day life. I always strive to keep your spine feeling fine!
What folks say about Dr. Nicole
Wonderful person and healer
Joe Harrison Jun 18, 2019
---
"Thank you Nicole, you are a true healer! You have helped with several issues and kept chronic pain away!!"
Best experience yet
Ben Dec 14, 2021
---
"I can't say enough good about Nicole. She listens and then acts to help you feel better than you have in a long time. Her approach with chiropractic plus massage care goes so much farther than I have ever experienced. She takes a holistic approach to health that I really appreciate."
Chiropractic & Massage Therapy
Kerma Greene Nov 19, 2021
---
"Nicole is awesome! First chiro/MT I ever found! Very good deep tissue massage and the adjustment is from head to toe."
Dr. Nicole is effective.
Loretta P Oct 28, 2021
---
"A caring good listener with great total body understanding.. she takes the time to getting your body fully aligned gently and works on your muscles too. She can get the job done."
Amazing!!
Sandy H Jun 16, 2021
---
"I have been going to Dr. Nicole for many years. She is always so warm and friendly, and really takes her time to get to the root of what is causing me pain. She is amazing how she finds it and is able to fix it. I would highly recommend her to anyone needing muscle work, adjustments and nutritional advice/supplements."
Awesome experience
Janet Luft Jun 8, 2021
---
"Love going to Dr. Nicole. She is very concerned on making you feel better either with adjustments and/or nutrition. She makes life easier so I can go on living life!"